25 May

Cost of Destination Wedding in Shimla
Cost of Destination Wedding in Shimla
Weddings in India have evolved from a quintessential ritual to a big lifestyle event to cherish and celebrate. Couples are in constant lookout for trying something novel and solitary for their weddings.  Destination weddings are gaining popularity, as they have so much to offer in terms of luxury, new experiences and also make way for little adventures too. Destination weddings are quite expensive, but if planned wisely can be managed well in budget. If you are hosting your destination wedding in Shimla, it would be a romantic and unforgettable marriage. Destination weddings in Shimla offer unique wedding celebrations alongside investing the most loosening up energy with precious ones.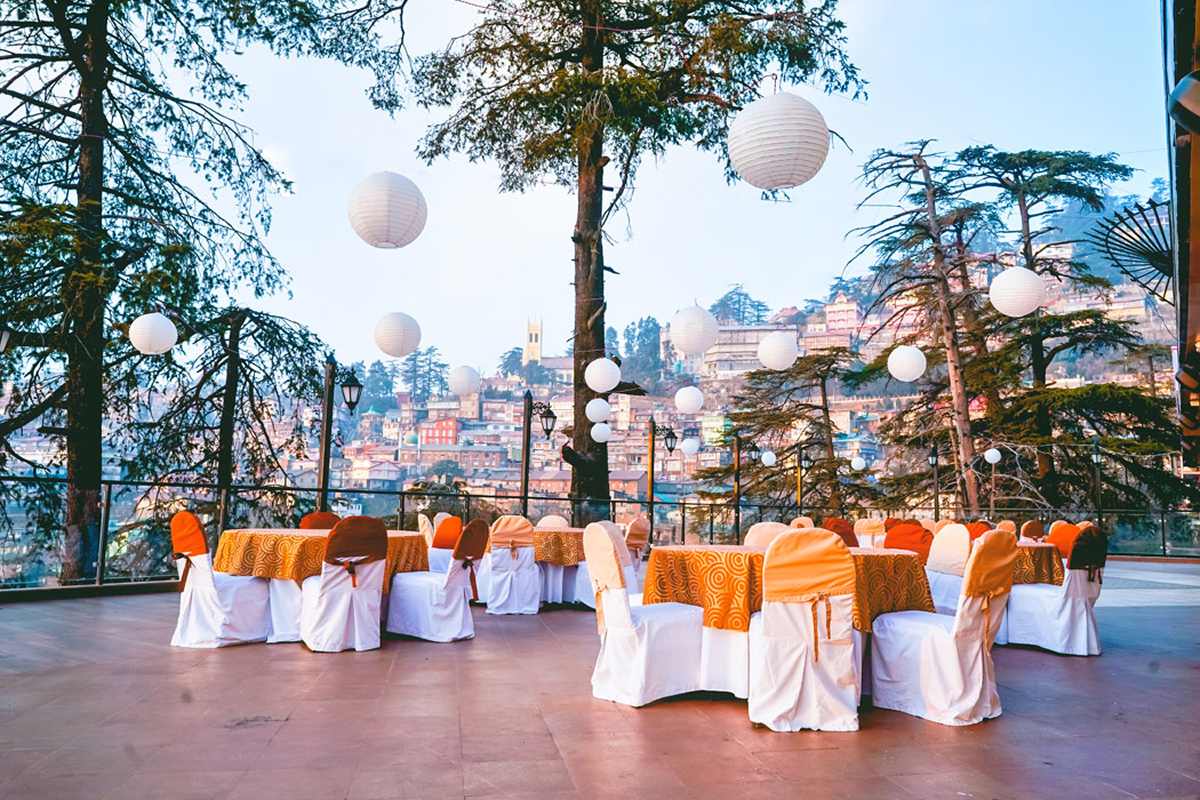 Weather / Best Time of the Year
for a Wedding in Shimla
A Shimla destination wedding is best organized in the summer months. Winters see heavy snowfall and many sports activities are not permitted in winters. The cool temperature of Shimla summers ensure that everybody can be fully decked up without feeling hot.
The best time to tie the knot in Shimla is during May to June and December to January when romance and beauty are baked into every inch of the soil here. Clear blue skies in summer, sprinkles of powdery snow in the winter, the spicy and earthy scent carried by pines, firs, cedars and oak trees. 
Break-down of Costs(25 Lakhs to 30 Lakhs)
A destination wedding is not just a moment but an opportunity to travel and enjoy with friends and family. So, get ready to spend at least 20-25 lakhs rupees for your destination wedding in Shimla. You will be surprised to know that destination weddings are cheaper than a simple standard wedding. So, anything between 20-30 lakhs would be the right rate to spend on a destination wedding in Shimla.
Mentioned are the flight rates for the month of May 2022, nearest airport is 22 kms away which is the Jubbarhatti airport.There is also a railway station in Shimla connected to Kalka by a toy train that takes about 7 hours to cover the 96 km distance.
Mumbai – Direct Flights from Mumbai Intl airport starting from INR 5,000 (Travel time 2h 25m)
Delhi- Direct Flights from Delhi Intl airport starting from INR 2,000 (Travel time 1h 10m)
U.K- One day Stop Flights from Heathrow airport from INR 40,000(Travel time 16h 10m)
U.S.A- One day Stop Flights from John F Kennedy airport from INR 43,000(Travel time 28h)
Toronto- One Stop Flights from Pearson airport from INR 63,000(Travel time 31h)
Total Budget 25 Lakhs for the month of May
Hotel Accommodation in Shimla
Good 3-4 star Hotels and Resorts in Shimla range which could be used to stay while having festivities at beautiful locations range from Rs. 5000 to Rs. 12000 per night per Room.
While 5* Hotels and Resorts range from Rs. 12000 to Rs. 18000 per night per Room.
If you want everything premium, you may want to stay at top of the line luxury Hotels ranging from Rs. 25000 to Rs. 65000 per night per Room.
For an average Indian wedding with 100 guests for two nights the cost will be around 18 to 20 Lakhs with food.
Venues in Shimla
There are a variety of luxury hotels to budget hotels where you can host your nuptials. The only thing that affects your budget significantly is deciding if you want to host the wedding and accommodate the guests at the same place or not. In case accommodating guests at the venue of the function is not a possibility, then book a hotel close to the venue. The venue charges can range anything between 30,000-50,000 INR.
Decor for your Shimla Wedding
 Earmarking Rs. 2 to 4 lakh budget for base setup, Floral decor & arrangements, Mandap, Furniture, Lighting & illumination etc which are part of setup should be a moderate amount. If you are keen on exotic flowers & designer stuff, this would go up to 10-20 lakh. For an extraordinary decor and design, sky's the limit to what you could spend.
Others
Your wedding is one of your most important days and you need to be with people whose company you enjoy – something that's much easier when you've met and connected with your photographer already. The costs for makeup artists and photographers for a wedding in Shimla might cost around 1.5-2 Lakhs INR.