24 May

Indian Weddings in Dubai : The Importance of Wedding Invitations and Stationery
Indian Weddings in Dubai : The Importance of Wedding Invitations and Stationery
When it comes to Indian weddings in Dubai, every detail matters. From the grandeur of the venue to the intricacy of the attire, every element plays a crucial role in creating a memorable experience. One aspect that should not be overlooked is wedding invitations and stationery. In this blog, we will delve into the significance of wedding stationery and invitations for Indian weddings in Dubai.
Why is wedding stationery important?
Wedding stationery is crucial since it sets the tone for the entire wedding celebration. It provides the first view of the event's style, subject, and elegance. Stationery, which includes everything from save-the-date cards to wedding programmes, menu cards, place cards, and thank-you letters, contributes to a coherent and visually attractive style. It provides a personal touch, giving visitors with a lasting impression and expressing the couple's distinct style and cultural history.
What is important in a wedding invitation?
The highlight of wedding stationery is the wedding invitation, which contains important information about the event. It should include the wedding date, time, and venue, as well as RSVP information and, if needed, a dress code. A genuinely spectacular invitation, on the other hand, goes beyond the basics. It should represent the personalities of the couple, the traditional essence of an Indian wedding, and the enchantment of Dubai. Vibrant colours, sophisticated designs, and traditional themes may make the invitation aesthetically appealing as well as culturally rich.
Why are invitation cards important?
Invitation cards are extremely important in Indian weddings because they represent the couple's respect and desire for the attendance of their loved ones on their special day. They serve as an official invitation to participate in the celebration, and their design and presentation show the couple's hospitality and attention to detail. In addition, invitation cards serve as treasured souvenirs for visitors, providing as a memory of the happy event and the couple's love.
Is a wedding invitation card necessary?
Absolutely! A wedding invitation card is more than simply a piece of paper; it has sentimental as well as functional significance. It gives guests important information like the date, time, and place so they may mark their calendars and prepare appropriately. Furthermore, an invitation card sets the tone for the event and builds enthusiasm among participants. It is a physical manifestation of the couple's love and commitment, making it a necessary component of any wedding.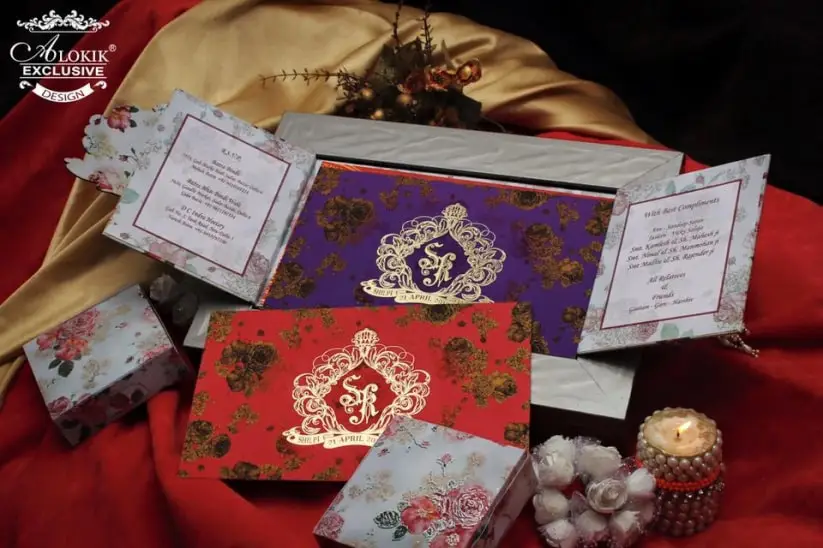 Designing the Perfect Wedding Invitations and Stationery for an Indian Wedding in Dubai:
It is critical to find a balance between traditional features and modern aesthetics when creating wedding invitations and stationery for an Indian wedding in Dubai. Here are some important considerations:
1. Cultural Significance:
Integrate Indian cultural features such as elaborate Mehendi designs, traditional motifs such as peacocks or lotus blossoms, and brilliant hues such as red, gold, and royal blue.
2. Fusion of Styles:
Combine traditional Indian design elements with contemporary designs to produce a one-of-a-kind and aesthetically attractive invitation that reflects the couple's particular tastes as well as Dubai's multicultural beauty.
3. Luxurious Touch:
To give a sense of luxury and refinement, use high-quality materials such as textured paper, rich cardstocks, and exquisite embellishments such as foil stamping or embossing.
4. Personalization:
Make the invitation really unique and unforgettable by adding the couple's monogram, initials, or a bespoke message.
5. Consistency:
To create a coherent and aesthetically attractive wedding experience, keep design consistency throughout the wedding stationery, including menu cards, place cards, and thank-you letters.
Conclusion:
Wedding invitations and stationery play an important part in conveying the mood of an Indian wedding in Dubai. They set the tone for an amazing party that reflected the couple's personalities.